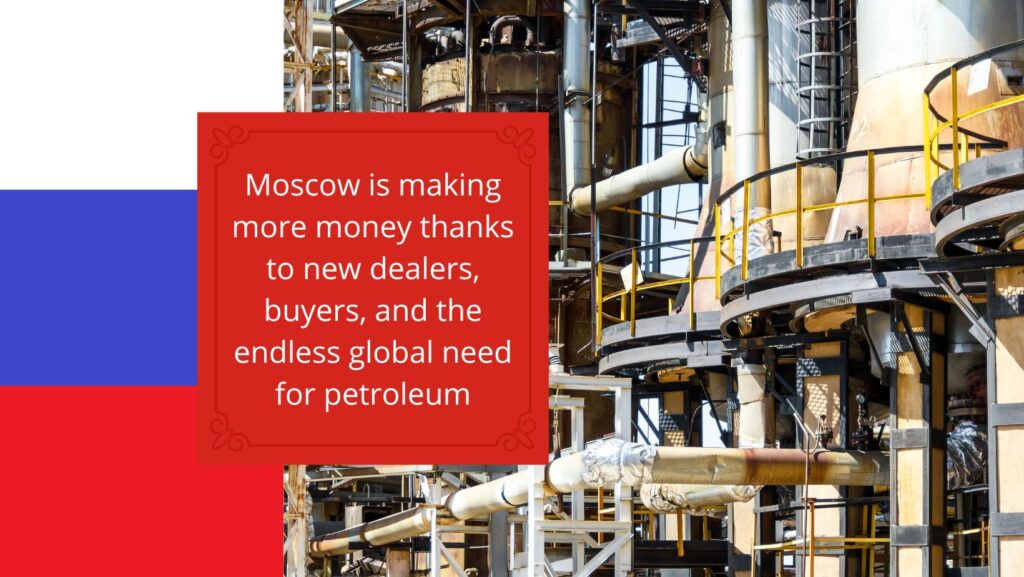 Russian recapture of oil riches as it was producing nearly the same amount of oil before it invaded Ukraine and selling it on the world market. Moscow is also making extra money as a result of rising oil prices.
Demand from some of the most significant economies in the world has given Russian President Vladimir Putin the advantage in the energy conflict that hangs over the conflict in Ukraine and has thwarted efforts by the West to wreck Russia's economy with sanctions.
The world's largest market for refined and crude fuels, Russia's export market, is experiencing a sales boom. Furthermore, new trade agreements have given Mr. Putin the green light to utilize natural gas exports as a financial weapon against Ukraine's European allies. 40% of Europe's gas supply came from Russia before the conflict. Since then, it has restricted flows through the Nord Stream pipeline to Germany and other channels, raising costs and exerting pressure on European citizens' budgets and enterprises.
Oil revenue makes up the deficit more than adequately. Elina Ribakova, the Institute of International Finance's deputy head economist, declared, "Russia is swimming in cash." According to her, oil and gas sales in Moscow brought in $97 billion through July of this year, with around $74 billion coming from oil.
IEA's report
According to the International Energy Agency, the nation exported 7.4 million barrels of oil and products like gasoline and diesel every day in July, a decrease of only approximately 600,000 barrels per day since the year's beginning.
Russia had made $20 billion in average monthly sales this year, compared to $14.6 billion in 2021, when economies were still rebuilding from the economic recession, despite the decline in oil exports. According to ship-tracking company Vortexa's data, shipments increased in August.
Washington, juggling two competing goals—reducing inflation with increasing global oil supply and maintaining economic pressure on Mr. Putin—has reacted differently to Russia's resilience on the oil market.
In recent weeks, oil prices have stabilized at roughly $100 per barrel after rising as high as $130 in the early weeks of the conflict. The retreat has decreased petrol prices at gas stations in the US and Europe, albeit more elevated than they were a year ago.
Russian Recapture of Oil Riches Supporting testimonies
According to oil traders, former Russian industry leaders, and maritime officials, Russian energy sales have prospered by finding new customers, payment methods, traders, and ways to finance exports.
According to economist and former Russian energy executive Sergey Vakulenko, "There emerged an understanding that the world needs oil and nobody's brave enough to ban 7.5 million barrels a day of Russian oil and oil products."
After consumers in the United States, the European Union, and their Pacific allies reduced their imports of Russian oil, a large portion of it flowed to countries in Asia that chose not to support either side in the conflict.
The Middle East has proven to be an unexpected market. Russian fuel oil exports—a lightly refined kind of crude—now travel through Egypt on their way to Saudi Arabia and the United Arab Emirates.
Russian oil is either burned in Saudi power plants or exported through Fujairah, a port in the United Arab Emirates that is frequently used to mix Russian and Iranian fuels to mask their origins. This oil was going to the American refineries before the conflict.
Discounted imports from Russia
Discounted imports from Russia allow Saudi Arabia's state-run oil company to sell its petroleum at market rates. As opposed to burning it, the Saudis are content to sell their oil, according to Carole Nakhle, CEO of the consultancy firm Crystal Energy.
The agreement increases supply in the world oil market, which helps keep prices in check. For the Russians, as well as, I would argue, the Europeans and the Americans, Ms. Nakhle declared, "this is a win-win situation."
In the Middle East, where Mr. Putin is taking advantage of tensions between the Saudis and the Biden administration, it also boosts Russian ties. With Moscow, Riyadh forms the OPEC+ cartel, defying American demand to increase petroleum production. As a result, prices have been supported, assisting Russia in the months when their oil sold for a significant discount.
Prince Abdulaziz bin Salman, the Saudi Arabian energy minister, said last week that OPEC might reduce oil production. He did so in defiance of American efforts to open the taps and support Moscow.
Lack of tagging
Most of the time, it is acceptable to buy and sell Russian oil. The U.S. and EU created financial system sanctions to prevent further increases in energy prices while allowing payments for oil to flow to non-sanctioned nations.
Beyond what was needed by law, many Western institutions, like banks and commodities trading firms, declared they would curtail or end any dealings involving Russian oil. When companies like Glencore PLC and Gunvor stopped managing the handling of oil produced by Russia's state-backed Rosneft Oil Co., smaller merchants were left to facilitate Russian shipments.
According to traders and industry officials, these smaller businesses relocated staff to Dubai and Singapore to avoid temporary EU prohibitions on doing business with Rosneft.
Moscow stopped providing monthly reports on oil production and other data, making it challenging to assess activities and concealing its oil-trade workarounds. According to traders, Russian port documentation frequently no longer includes information on the destination and shippers of the nation's oil.
Intermediaries transport Russian oil from ship to ship at sea, a costly tactic that hides the oil's origin and fills ships that are too big to go to Russian ports in the Baltic Sea. According to traders, this is probably done to prevent financial institutions from withdrawing finance and insurance for the shipments due to sanctions and reputational harm.
The oil dealers said fuel oil is hidden and stockpiled in the trading hub of Fujairah from Iran, Venezuela, and now Russia. A merchant in Switzerland testified that he received gasoline oil that was unmistakably Russian due to traits like its sulfur concentration. The packaging stated otherwise.
Fears of early-war sanctions
After early-war sanctions fears hit, the oil market's rewiring helped stabilize the Russian energy sector. Western purchasers and European financiers froze out Russia's access to the global commodity markets. The traders expected a daily decline of up to 3 million barrels in Russian shipments earlier this year.
Quickly increasing their imports, China, Turkey, and Middle Eastern countries took advantage of the lower prices and created lucrative new transport routes for Russian crude. Some refine Russian oil and sell it as gasoline and diesel for profit in the West.
According to an executive at the state-owned Indian Oil Corp, imports have recently decreased due to refinery maintenance work. Still, the business inked a contract with Rosneft to lock in supplies until 2028.
In March, Evgeny Gribov, who left his position as an executive at Lukoil PJSC, the country's second-largest oil producer, predicted that "Russian oil will find its new route into India, China, and other markets." And even when sold at a discount, there is still more than enough to keep the fight going.
Shadow Combat
In the long run, analysts and current and former energy executives predict that Russia will find it difficult to continue as a major oil supplier. The amount of Russian crude refiners in China and India can process physically limited. Additionally, sanctions forbid the import of technology to dim the prospects for future energy production as Russian machinery ages and loses access to Western software.
Winter will put Moscow's and its enemies' commitment to the test. The EU is scheduled to gradually implement an embargo on Russian oil and a possibly harsh prohibition on financing and insurance of Russian oil exports from December 5. The sanctions would dramatically increase efforts to harm Russia's economy if implemented, which some traders and analysts doubt.
The United States and its allies have mostly avoided imposing such limitations to prevent rising energy prices.
According to Citigroup analyst Arkady Gevorkyan, Russia may have trouble finding new customers for the roughly 1.25 million barrels of petroleum and fuel it supplies daily to Europe. Russia's daily production of crude and a related power known as condensate might decrease by almost 2 million barrels by March of the following year, according to Livia Gallarati of Energy Aspects.
Washington's pressure
Washington is pressuring Brussels to impose measures to reduce Russian oil earnings without raising prices. The U.S. requests that the EU only forbid freight insurance if it violates a per-barrel price cap. The goal is to prevent costs from reaching new highs while reducing Mr. Putin's war chest.
Senior Treasury staffer: "We don't want Big Macs being offered in Moscow." "We want the Baltic to be a conduit for cheap oil."
Since Treasury first suggested the price-cap notion in June, some traders and experts have expressed skepticism, and little has changed.
Implementing the EU's limits would demonstrate the continent's willingness to endure economic hardship on behalf of Ukraine. Many predict that Moscow would respond by shutting off all of Europe's natural gas supply, which recently flowed through the Nord Stream pipeline at about 20% capacity.
According to Helima Croft, head of the commodity strategy at RBC Capital Markets, "Vladimir Putin has put mutually assured destruction on the table.
Analysis by: Advocacy Unified Network