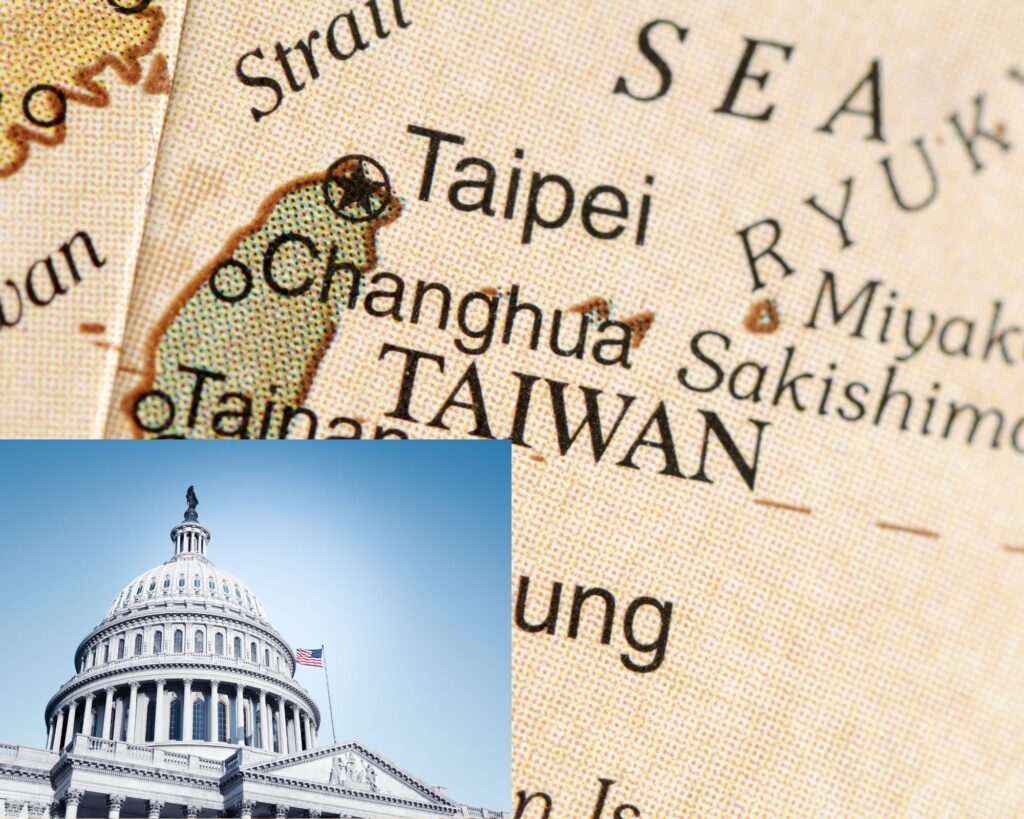 Source: AUN News
In reaction to Chinese military drills that, according to U.S. officials, are developing into a long-term plan of increased military pressure on the island, the Biden administration has vowed to keep sailing warships through the Taiwan Strait and to carry out air operations in the area.
Administration representatives stated they did not want to escalate the current standoff, which China claims was started by Speaker Nancy Pelosi's visit to the island last week. However, American and Taiwanese officials made it clear in interviews and public statements that they now think China used Ms. Pelosi's visit as a pretext to step up its operations to intimidate Taiwan for months or years to come and possibly speed up the timetable of its plans to establish control over the island's 23 million people, similar to what it did in Hong Kong.
According to officials, the U.S. Navy is preparing to send ships through the Taiwan Strait in the following weeks despite China's recent assertion that it is in complete control of the waterway. Officials claimed that sending the aircraft carrier Ronald Reagan, located in Japan, would be too provocative.
Reporters were informed this week by Colin H. Kahl, the assistant secretary of defense for policy, that China was attempting to "coerce" Taiwan and the international community.
And all I'll say is that we won't fall for the bait because it won't work, he added.
International law
"What we'll do instead is to continue flying, sailing, and operating wherever international law enables us to do so, and that includes in the Taiwan Strait," he insisted, stressing that business would go on as usual in the United States.
President Biden stated on Monday in response to a question about the escalating tensions that he was "concerned that they're moving as much as they are," an apparent allusion to the Pentagon's estimation that China has sent 20 destroyers and frigates to the waters around Taiwan.
Mr. Biden responded, "That was her decision," when asked if Ms. Pelosi's decision to travel to the island despite China's warnings was a "smart move."
Interviews with various government, military, intelligence officials, and independent analysts revealed a growing belief that China's drills were a turning point in its policy rather than merely responding to the speaker's brief visit. According to several officials, President Xi Jinping is attempting to convey a greater willingness to resort to force to achieve reunification, if necessary.
Taiwan's foreign minister, Joseph Wu, stated on Tuesday that he believed China was using its missile tests to "deter other countries from interfering in its attempt to invade Taiwan" and that China was trying to "routinize its action in an attempt to wreck the long-term status quo across the Taiwan Strait." Several American officials claimed they were planning their answers to demonstrate that they would not be discouraged from defending the island.
Anti-submarine activity
A new U.S. intelligence assessment that suggested Mr. Xi would try to move against the island in the upcoming year and a half was released just weeks before the exercises. China said on Monday would now include anti-submarine activity. According to the intelligence, Mr. Xi is concerned that as the United States prepares to arm Taiwan more quickly, especially with weapons that were successful against Russian forces during the invasion of Ukraine, his military edge may decrease.
Now that Taiwan has become such a key component of Mr. Xi's plan and a cause of contention with the United States, it threatens to overwhelm Mr. Biden's efforts to identify several areas where the world's two largest economies might cooperate.
The two leaders had a two-and-a-half-hour conversation on that subject on July 28, according to the White House. Beijing, however, halted all talks on arms control, trade, and counternarcotics activities on Friday, as the live-fire drills neared their peak around Taiwan.
China "should not hold captive collaboration on areas of global concern because of disputes between our two countries," according to Secretary of State Antony J. Blinken. However, other administration officials claimed that China was openly using climate cooperation as a bargaining chip when negotiating with the United States, its allies in the West, and even its neighbors in the Pacific.
The former commander of the U.S. Pacific Fleet, Adm. Scott H. Swift, stated that the previous week would be a turning point in the relationship. He predicted that China's stance would "become considerably harder" and that Beijing would use "a playbook to draw far more timely, and perhaps preemptive responses" to actions taken in favor of Taiwan.
Violence
Several officials have publicly drawn parallels between Mr. Xi's actions toward Taiwan and President Vladimir V. Putin's attempts to annex Ukraine, which they were reluctant to do even a few weeks ago. Wendy Sherman, the deputy secretary of state, criticized leaders who "think that coercion, pressure, and violence are tactics to be utilized with impunity" during a commemoration of the struggle for the Solomon Islands that took place 80 years ago. They felt that "the ideals and institutions the world set up after the Second World War" could now be "ignored and undermined, weakened, and destroyed," she continued without naming them.
Early signs suggest that China's display of force alienated other states. Unlike the previous Taiwan crisis in 1996, when the United States was the only country to voice out and send two carrier groups to the region, remarks from the Group of 7 and the Association of Southeast Asian Nations either denounced the move or urged China to back down.
There is no doubt that the threats against Taiwan have reinforced anti-China sentiments on Capitol Hill, where criticism of Beijing is one of the few issues on which both parties can agree. Even though there is scant proof that China and Russia are cooperating, some senators have started referring to them as the United States' mutual enemies.
Democratic neighbors
The threats against Taiwan were seen as "another reminder that we have entered a new era of authoritarian aggression driven by the tyrant's Xi Jinping of China and Putin of Russia," according to Alaska Senator Dan Sullivan, a Republican. As a result of their historical grievances, paranoia about their democratic neighbors, and willingness to employ military force and other aggressive activities to subjugate such nations' citizens, as we can currently witness in the Taiwan Strait and Ukraine, they are becoming more isolated and dangerous.
Pentagon officials stated that China's exercises are significantly more complicated than past displays of force and illustrate Beijing's capacity to quickly deploy an armada of aircraft, warships, and missile batteries.
The officials added that it would be a crucial test for Beijing's military to see how well it could maintain those activities throughout a campaign of weeks or months, like the war in Ukraine. Nevertheless, several aspects of the multiday training sessions have impressed American analysts. The public has taken notice of China's navy and air force, and American experts in the Pentagon and U.S. intelligence agencies have paid close attention to China's missile capabilities.
Extensive arsenal
According to Eric Sayers, a fellow at the American Enterprise Institute and a former senior consultant to the U.S. Indo-Pacific Command, China has the most sophisticated and extensive arsenal of missiles in the entire globe. They frequently test these capacities, but their use of missile strikes in several marine domains shows how sophisticated their rocket force has become.
The American response appears to have been inspired, at least in part partly, by the crisis of 1996. President Bill Clinton, at the time,e despatched two carrier groups to the area, one steaming from the Persian Gulf and the other ordering the opening of the Taiwan Strait.
In the most recent instance, the Pentagon decided to keep Ronald Reagan and its strike group in the area, close to the Philippines, following extensive discussions with the White House.
According to American sources, the exercises provided U.S. intelligence analysts with an unusual opportunity to understand the advantages and potential weaknesses of China's capacity to mobilisemobilize and deploy its forces. Analysts noted that the exercises are also testing China's capability for the first time to execute intricate military maneuvers in the middle of commercial air and sea traffic and to guarantee the precision and safety of missile launches close to densely populated areas.
The Seventh Fleet is actively watching this drill to ensure it doesn't turn kinetic from all the air and marine platforms they have in the vicinity, according to Mr. Sayers.
Primarily regarded
Firing five Chinese missiles in Japan's exclusive economic zone surprised the country. These launches were primarily regarded as a warning to both Tokyo and Washington. The American bases on Okinawa were not far from the missiles.
According to Kunihiko Miyake, a former diplomat and research director at The Canon Institute for Global Studies, China has shown considerable restraint. Mr. Miyake stated that "the immediate Chinese response is controlled." It is guarded.
Mr. Xi "truly wants to survive," he continued. He hopes to win a third term in office. He, therefore, is not currently interested in starting a conflict with the United States.
The missile attacks have only strengthened the country's efforts to increase defense spending and relax some constitutional provisions that have kept Japanese forces near their borders. Mr. Miyake stated, "I believe China may have given the Japanese people the wrong impression.
"It's a fantastic chance for people who want to improve Japan's defense or deterrent capability."
Analysis by: Advocacy Unified Network