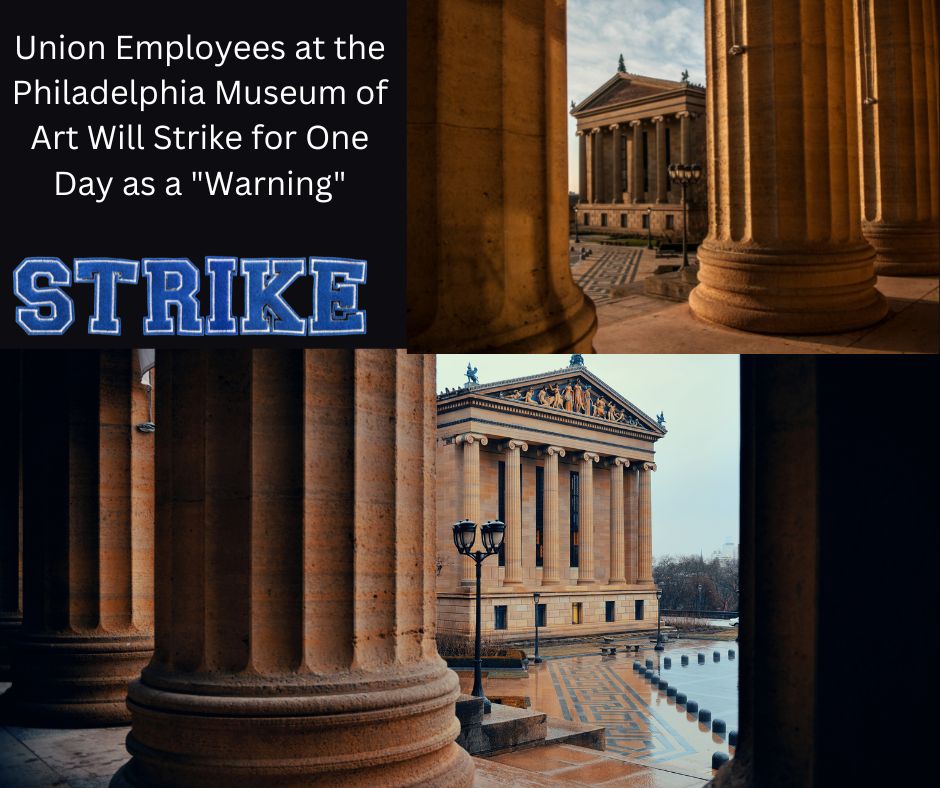 The Philadelphia Museum of Art (PMA) union calls for a one-day strike on Friday, September 16, as a "message to museums management." More than 150 employees from almost every organisation division will be picketing in front of each entrance to the venue.
This action is the most recent shot in a protracted and frequently tense phase of contract negotiations between the bargaining unit and its employer that began in October 2020. Wage hikes, paid parental leave, and health care has been contentious at weekly meetings.
Union president Adam Rizzo described the negotiation process as "a tremendous grind."
He clarified that although there are "quite a few" tentative agreements between the workers' organisation and the museum administration, they are "non-economic." According to him, management has "been particularly averse to changing the status quo regarding job security."
Following the bargaining unit's filing of unfair labour practise charge with the National Labor Relations Board, in which it claimed that the museum had "repeatedly violated federal law by engaging in union-busting activity during contract negotiations," the museum has now called a strike that began just three weeks ago. Morgan, Lewis & Bockius, a law firm well-known for its anti-union tactics, is the representative of PMA management.
According to Rizzo, negotiations between the union and the museum have worsened since the charge was brought. The employees' group planned the strike this week due to the impasse.
"We anticipate that [management] will come to the table after we show them that we can shut the museum down," he said. "If they don't, we'll conduct a new assessment. We might need to step it up even more.
The Philadelphia Museum Of Art Is Now Entirely Unionised
The institution's spokeswoman told Artnet News that the museum "remains open to the public and is devoted to serving our community." "The museum invested much time and effort into the negotiations, and we made great strides, agreeing on more than 25 critical points. Although we are disappointed by the union's decision to strike, we are nevertheless committed to negotiating a fair and suitable deal with the union.
In August 2020, 89% of PMA employees elected to unionise. The vote established the first wall-to-wall union at a museum in the nation, two days after the organisation let go 25% of its personnel.
In a statement at the time, Timothy Rub, the former director and CEO of the PMA, said, "Just as we supported the right of personnel to organise at the outset, we also appreciate today's decision." We promise to work honestly to make things better for our staff and this institution.
The negotiations languished in the months and years that followed.
Philadelphia Museum of Art Scandal
The American Federation of State, County, and Municipal Employees (AFSCME) District Council 47, to which the PMA union belongs, is led by Cathy Scott. "Museum management needs to stop union-busting and make genuine offers that boost workers' pay, healthcare, and maternity leave," she stated. "We cannot tolerate a status quo that subjects employees to violations of federal law, pays wages substantially below the national average for art museums, and provides benefits that do not enable them to sustain their families."
Rub left his role as CEO and director in January of this year. His final two years at the museum were a turbulent time marked by sexual harassment allegations, personnel reductions, and the conclusion of a sizable expansion project by Frank Gehry.
This July, Sasha Suda—previously the director and CEO of the National Gallery of Canada—was chosen to succeed Rub. Later this month, she will start in her new position, taking over as the museum is ready to debut a significant Henri Matisse show.
The museum is at a critical turning point, and Rizzo suggested that this is a time for them to reconsider many of its stances. They should be under some pressure right now, and I'm hoping they'll come to the negotiating table and work with us in good faith. We've waited too long.
Analysis by: Advocacy Unified Network