Source : AUN News
Global migration has started to return to pre-pandemic levels after declining by about 27% during the COVID-19 pandemic. IOM assisted 49,795 migrants in 2021 to return to their home countries, a rise of 18% from the previous year.
Yitna Getachew, the director of the organization's protection division, commented on the report and said that it "highlights IOM's ability to meet an increasing demand by migrants for safe and dignified returns as well as to support their reintegration into the countries of origin following the lifting of many travel restrictions imposed during the pandemic."
The 2021 Return and Reintergration Key Highlights, as Mr. Getachew points out, is remarkable for showing how successfully IOM met the growing demand.
The paper also highlights the ongoing pattern of rising transit-country returns in other host regions outside of Europe.
IOM's efforts to support in dignified returns were most successful in 2021 in Niger, where 10,573 migrants were assisted in returning home. Benefits to Niger much outweigh those to any country in Europe. Niger is still outnumbered by the total number of beneficiaries in Europe, though.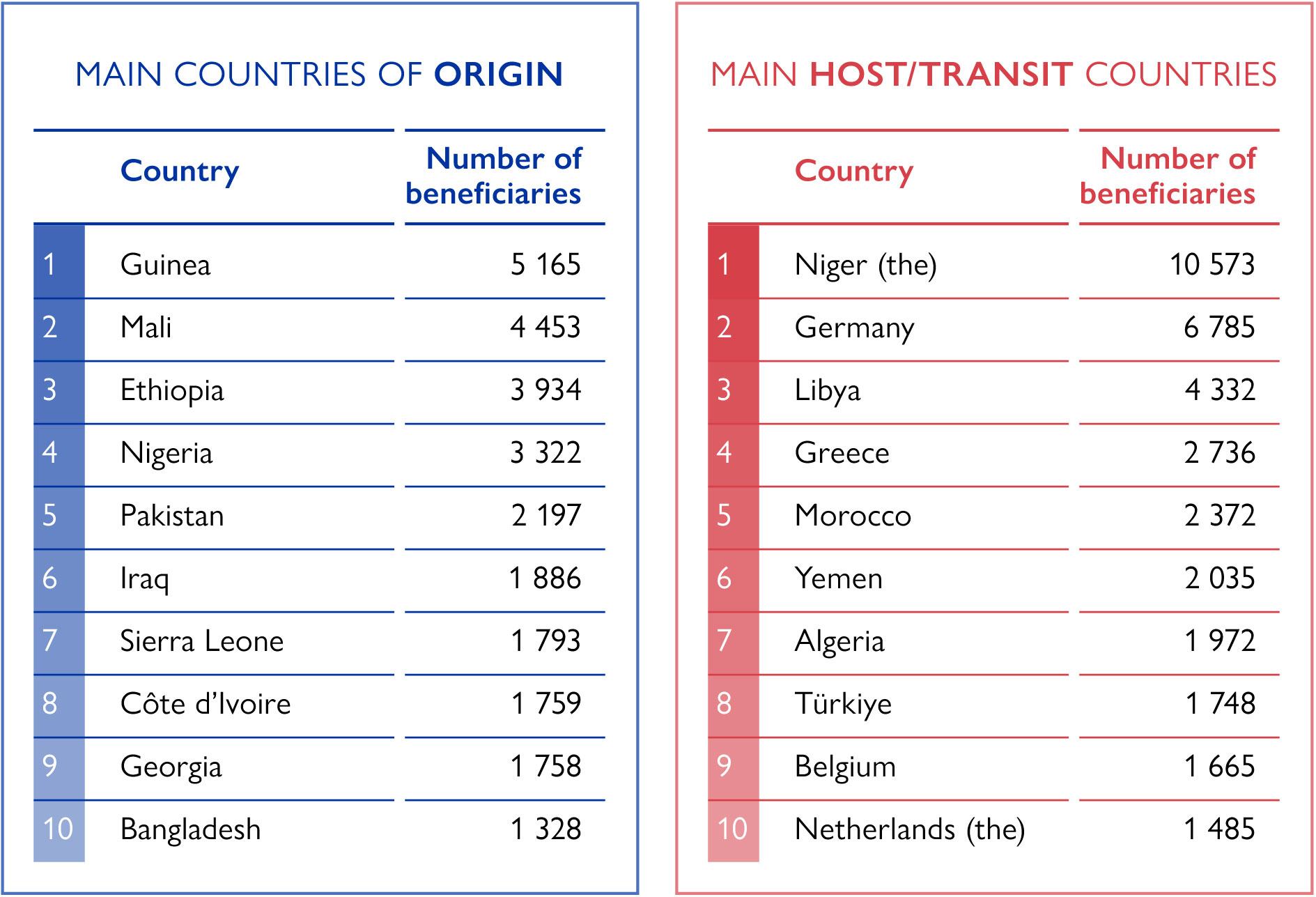 Source: IOM
IOM 2021 report on reintegration and return.
Reintegration programmes, which give returning citizens opportunity and advance sustainable development, are the cornerstone of aided voluntary return programmes, according to IOM.
IOM offices supported 113,331 reintegration initiatives at the individual, communal, and structural levels in 2021 across 121 countries.
In general, Germany, Nigeria, and Guinea were the top three nations that offered reintegration support in 2021, including both host and countries of origin.
The major forms of aid provided were social, financial, and reintegration counselling. These multifaceted plans seek to achieve a level of economic independence, social cohesion, and psychological well-being that renders additional migration optional rather than necessary.
The agency's 2021 Policy on the Full Spectrum of Return, Readmission, and Reintegration further reflects the most recent IOM recommendations. According to the policy, the IOM is to engage in multilateral discussions on return migration using a comprehensive, rights-based, and sustainable development-focused strategy that can increase returns, readmissions, and sustainable reintegration.
This strategy put people first by refocusing IOM's attention on the welfare of specific returnees and the safeguarding of their rights throughout the whole return process.
Analysis by : Advocacy Unified Network