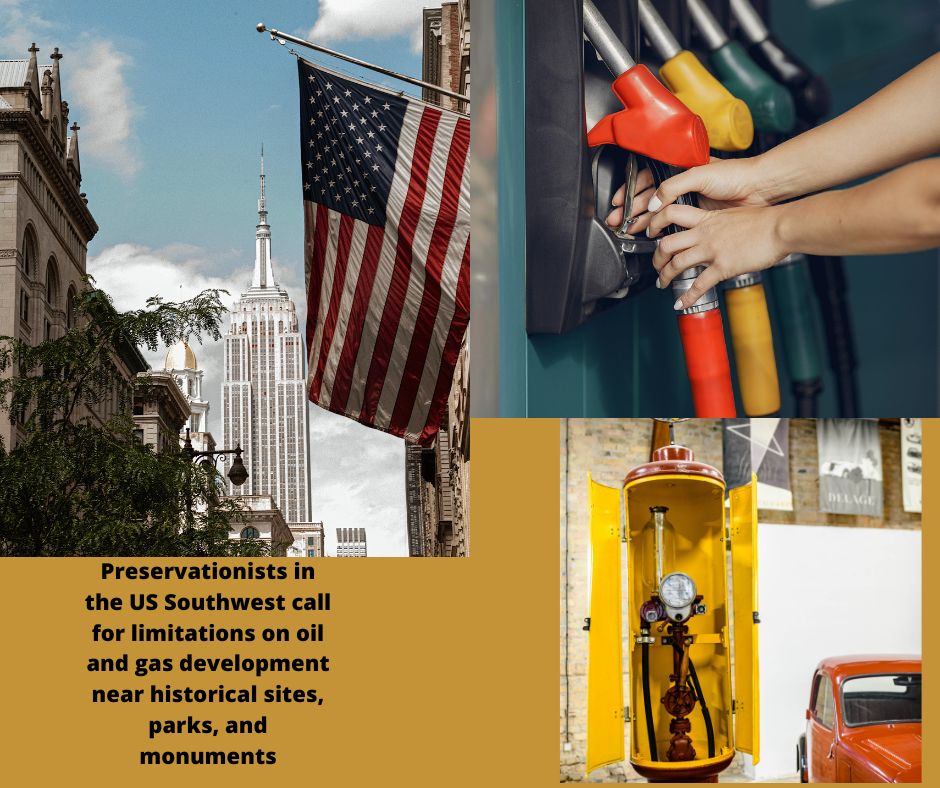 Source: AUN News
Millions of people visit American national parks yearly to take in these magnificent outdoor areas' immensity, natural wonders, and starry skies. But oil rigs and gas wells rapidly creeping on the edges of many of these fossil fuel-rich landscapes are looming nearby.
According to a recent report by preservationists, the federal oil and gas leasing programs need to undergo significant reform because several parks and monuments run the risk of turning into "islands in a sea of development," endangering not only beautiful views but also sacred Native sites, biodiversity, and the well-being of neighboring communities. The five federally owned parks—Chaco Culture National Historical Park, Dinosaur National Monument, Hovenweep National Monument, Mesa Verde National Park, and Theodore Roosevelt National Park—are the ancestral homelands of the Hopi, Zuni, Diné, and other Indigenous peoples in the US Southwest are the main subjects of the book.
Safeguarded areas
The US Bureau of Land Management (BLM) is permitted to lease parcels for drilling up to specific borders, even though such regions are protected areas. The article claims that over 75% of the Little Missouri National Grassland bordering Theodore Roosevelt National Park has been leased for oil and gas development. Additionally, many existing leases have already been used in the examined areas, where oil and gas activity can be found as little as 20 miles from park boundaries. A struggling ecosystem due to the climate crisis is threatened by natural gas flaring, mono nitrogen oxide emissions, and dust.
The Coalition to Protect America's National Parks, which includes more than 2,200 current, former, and retired workers and volunteers of the National Park Service, and Archaeology Southwest, a nonprofit organization based in Tucson, Arizona, contributed to the July report. The 30-page document was examined by numerous Indigenous tribes and the All Pueblo Council of Governments (APCG), a group representing Pueblo Nations in Texas and New Mexico.
The groups created the paper in response to growing oil and gas activity over the past ten years, which coincides with the development of new mining and fracking technologies, according to Paul Reed, a preservation archaeologist with Archaeology Southwest. For instance, the BLM has just announced plans to open up leasing on more than 10,000 acres of public property close to Mesa Verde National Park, which safeguards close to 5,000 ancient sites.
The writers also want to lessen the effects of former president Trump's "energy dominance" policy, which repealed protections meant to guarantee carefully controlled oil and gas operations. According to Reed, our action's main goal was to raise awareness among the general public and capitalize on the administration's desire to move in the direction we believe is best for the environment. Thanks to the Biden administration, we now have a sympathetic ear in Washington that must proceed with this. We do not want industrial development close to some of America's most unique locations.
Consulting
The report recommends several steps that Congress can take, such as prohibiting fresh oil and gas leases on the grounds bordering national parks, designating additional buffer zones around these federal lands, and creating standards for consulting with local tribes. The document's authors also urge the creation of new plans for the reclamation and restoration of leased pieces of land with abandoned wells. They claim that more than 140 abandoned wells are located 30 miles or less from the Hovenweep National Monument, which guards the ruins of six ancient Puebloan communities.
Native organizations have long urged the US Department of the Interior to cooperate with them in identifying no-leasing areas in landscapes that are important to their culture. For the Greater Chaco region, which is the location of the Chaco Culture National Historical Park, APCG, for example, has called for stronger protections. The New Mexico park preserves sacred areas used by the Pueblo and Navajo peoples. Still, many more sites aside from its borders, including Chacoan roadways and enormous stone structures called Great Houses. The BLM has leased roughly 92% of the area surrounding the park to oil and gas corporations, which have already sunk more than 37,000 wells, according to the analysis by Archaeology Southwest.
Along the border of Utah and Colorado, near the Dinosaur National Monument, which preserves historical Fremont ruins, are thousands of wells. The Zuni of today views their ancient culture as tangible proof of their ancestors. According to the report, the Zuni religious leaders and their community, any damage to sacred sites and other cultural elements within the monument causecauseional and psychological pain.
The writers present the topic of energy production as more than just an environmental concern and a matter of racial fairness from the outset. "The government has a historic chance to maintain its promise to safeguard the ancestral homelands and holy sites of Tribes," they write in Executive Order 13983. After taking office in 2021, the directors Biden signed the directive to federal organizations to promote impoverished communities and improve racial equity.
Mining for resources
This strategy is consistent with Archaeology Southwest's dedication to working with Native Americans, whose communities are disproportionately affected by resource extraction. During the past five to ten years, Reed adds, "we've undergone a reorientation in how we want to do our work and prioritize safeguarding places that our Indigenous and our Native partners have stated are vital." While we manage public lands, we believe their voices have not been heard nearly loud enough.
However, this job is made more difficult by the divergent views among Native communities over the use areas' use of Chaco. Culture National Historical Park would be surrounded by a 10-mile oil drilling moratorium for 20 years, according to proposals unveiled by the Biden administration in November 2021. The Navajo Nation opposed the doldrums, and suspension organizations like APCG, who teamed up with Archaeology Southwest to advocate for these protections, welcomed it. Instead,, to safeguard council suggested a five-mile barrier to protect the interests of individuals and families who own land nearby. These allottees can lease their properties to oil and gas corporations, as Grist noted, and many were worried that this would have an impimpactity on making a living.
According to Reed, a 14-year veteran of the Navajo Nation Archaeology Department, there are no other Southwest Native American tribes or groups to the proposed protections for the Chaco region. He says, "One of the things we've stressed is that moving to conserve portions of federal territory, removing them from mineral extraction, would not and would not affect the effectiveness of any Indigenous people and tribes to develop the resources as they see fit."
Economic pursuits
He continues by saying that much of the opposite Chaco has been sparked by false information. People have been advised up front by an unidentified party that if they have parcels within the ten-mile zone, they won't be allowed to develop their property or obtain power, energy, or water. The Bureau of Indian Affairs has some oversight, but there are many possibilities for economic activity available to individuals, so the administrative removal would not significantly affect that.
The DepartmArchaeology Southwest is urging the Department of the Interioriftly to make its suggested revisions permanent.
The time has come for the federal government to focus more on safeguarding these locations, creating set-asides, possibly using buffer zones, and having those regions considered for future parks and monuments, according to Reed. "Americans want to see these regions protected in every state. Therefore, we don't believe there should be much debate about this.
Analysis by: Advocacy Unified Network