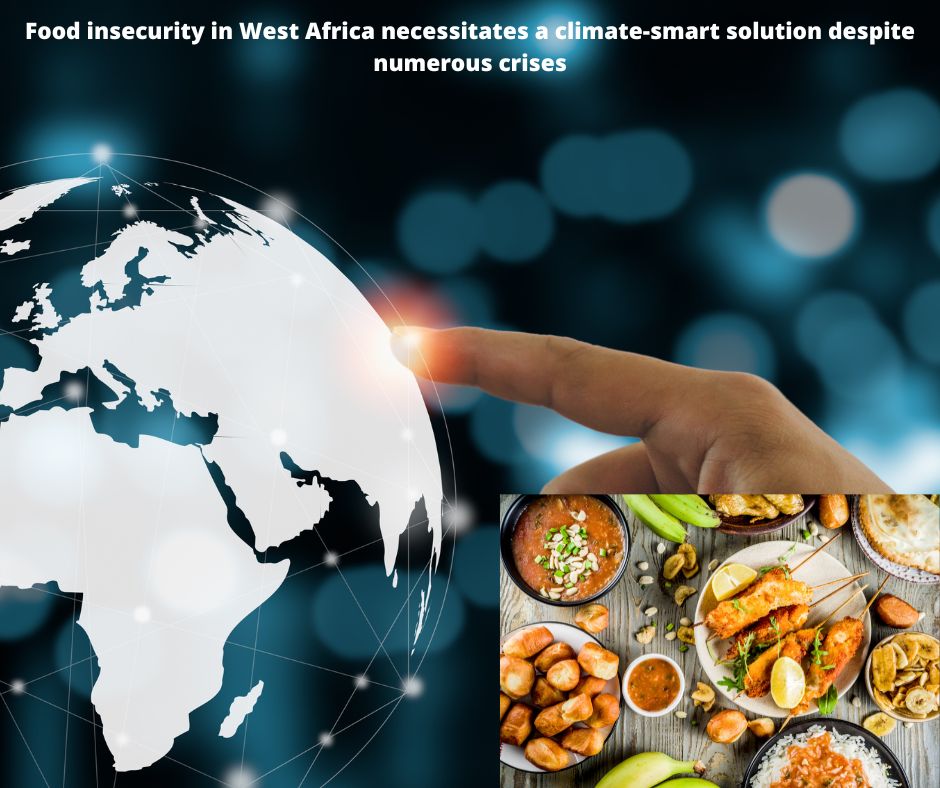 Pretoria: The Sahel and West Africa, a region with more than 38 million people suffering from severe food insecurity, are feeling the global consequences of the horrific conflict in Ukraine hard as crises increase and continue to rage. The effects of the war could cause food insecurity for an additional 7 to 10 million people in the area.
The World Bank is implementing short- and long-term responses to the crisis to improve food and nutrition security, lower risks, and enhance food systems.
These initiatives comprise the institution's $30 billion in ongoing and new projects in agriculture, nutrition, social protection, water, and irrigation that make up the institution's worldwide response to the ongoing food security problem. With this funding, initiatives will be made to promote food and fertiliser production, improve food systems, facilitate trade, and assist producers and vulnerable households.
Rising costs
It is anticipated that the conflict's shockwaves will have extensive, long-lasting effects on the entire world. Through the end of 2024, it is predicted that global prices will continue at historically high levels. Additionally, the war is changing trade and production patterns, exacerbating food insecurity and inflation. These shocks follow two years of COVID-19 pandemic disruption, striking the already vulnerable world food system struggling with climate extremes.
"Unfortunately, many individuals in Africa today are unable to get necessities like food supplies due to the rising price rate," remarked Ousmane Diagana, Western and Central Africa Vice President at the World Bank.
Oil, rice, wheat, and other commodities are seeing sharp price increases on the world market. Poor households are spending disproportionately more on food than wealthier households throughout the Sahel, West, and Central Africa. According to World Bank data, the price of wheat, a food essential for many people, was 60% higher at the beginning of June 2022 than it was in January 2021.
Fertilizer costs have also increased during the war and are currently roughly three times higher than they were a year ago, despite being necessary for productive agriculture. As many farmers are forced to use less fertiliser due to rising prices, the knock-on impact is anticipated to lower food output over the following years.
Addressing the core causes
To help nations at risk of food insecurity respond more quickly, the World Bank is mobilising support for emergency responses in the Sahel and West Africa. It collaborates with its humanitarian partners to monitor local food insecurity and develop food security preparedness plans.
Long-term solutions are also necessary to address the issue of improving food and nutrition security in the region. Additionally, regional strategies are being used to strengthen the resilience of the food systems in Western and Central African nations because many of the causes and effects of food insecurity transcend national boundaries.
One such strategy is the $716 million Food System Resilience Program (FSRP). By boosting intraregional value chains, supporting climate-smart agriculture, and developing regional ability to manage agricultural risks, it seeks to provide benefits to more than four million people in West Africa.
Large Green Wall
There is an increasing need for additional climate-smart investments to support nations where populations deal with climate change, conflict, and extraordinary environmental degradation as agricultural systems in the Sahel and West Africa are under extreme stress.
With such climate-smart solutions, the Great Green Wall, an important regional project sponsored by Africa, hopes to improve the economy and ecosystems of the area. To help people respond to and adapt to climate hazards, it aims to rehabilitate over 100 million hectares of damaged land and create 10 million employment in rural areas by 2030. Between 2020 and 2025, the World Bank promised to invest $5.6 billion in the participating 11 nations. With the help of enhanced food systems, restored landscapes, and access to infrastructure built to withstand climate change, more than 60 initiatives are aimed at altering the way of life along the Great Green Wall.
Measurable outcomes
Farmer Nama Boureima in Sapouy, Burkina Faso, is one of the hundreds who has benefited from the installation of biodigesters in the nation. "Before, I used chemical fertiliser every year, and I could go through 20 or 30 bags of it," he says.
Farmers may create renewable biogas for cooking and organic fertiliser for their farms by mixing cow manure and water in biodigesters. Trapping the methane released by the waste lowers the demand for forest resources that were before utilised for domestic fuel.
His farm is an example of significant changes under the Great Green Wall. In Burkina Faso, more than 2,500 microprojects have been funded, 270,000 hectares of land have been put under sustainable management, 1.5 million people have witnessed an increase in the value of their access to forest products, and 10 million tonnes of CO2 have been avoided or decreased.
The US$900 million Nigeria Erosion and Watershed Project (NEWMAP) improved the nation's capacity to combat erosion, natural disasters, and risks while generating 20,000 direct and 32,000 indirect jobs through Sovereign Green Bonds – a first for Africa. It benefited almost 12.5 million people.
Agro-sylvo-pastoral communities in Niger have increased yields by up to 58% due to training in climate-smart practices.
Greener future
Exploiting the potential of these ambitious climate-smart investments is crucial for strengthening the region's economy, ensuring inclusive growth, and addressing food insecurity as challenges to global food security loom.
"When these factors come together, not only does the economy change but jobs are also produced. As a result, young Africans can continue to live and work in Africa, according to Diagana of the World Bank.
Analysis by: Advocacy Unified Network