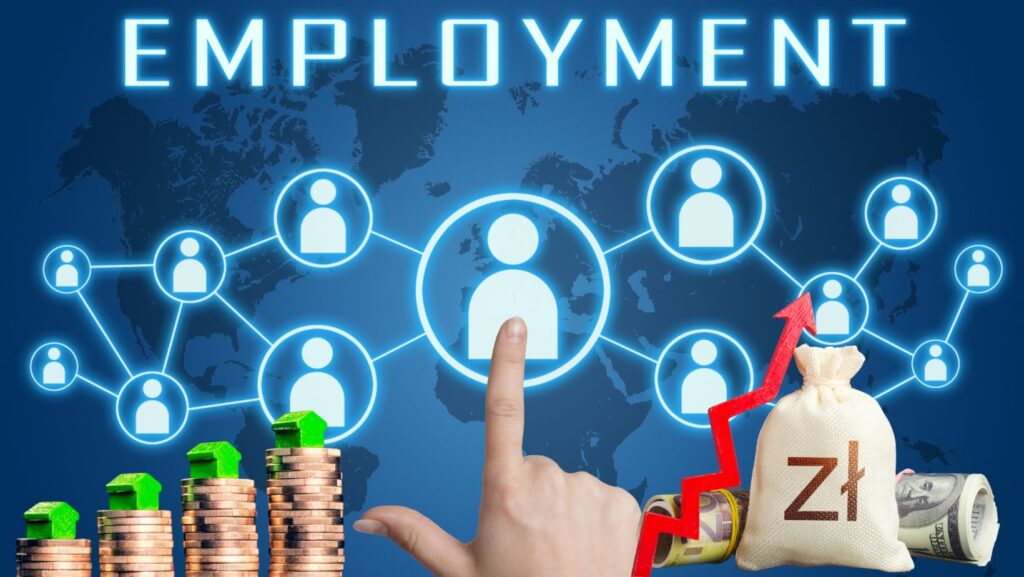 Summary:
Developing countries are facing a series of interconnected crises.
As a result, these crisis' deepens inequalities and hinder economic recovery in the aftermath of the COVID-19 pandemic.
Rising debt levels and a widening employment divide are crucial factors.
Because these contribute to the inequality gap between high-income and low-income countries.
Low-income countries in Africa and the Arab region are projected to struggle in recovering to pre-pandemic levels of unemployment in 2023.
As can be seen other regions have made significant progress in reducing unemployment rates.
The weight of debt, limits the capacity of developing countries to address multiple challenges.
Consequently, it slows down their recovery efforts.
Creating a cycle of crises that widens the gap between the wealthy and the people.
The employment gap, a new indicator introduced by the International Labor Organization (ILO), highlights the unmet need for employment in vulnerable nations, swallowing up opportunities and dreams.
Mutually Reinforcing Crises Amplify Inequalities in Developing Countries
Following the COVID-19 epidemic, developing nations are in the midst of a hurricane as they deal with a never-ending barrage of interrelated challenges. These crises have created a complicated network that has widened inequality and complicated the process of economic recovery. It's like a perfect storm, and regrettably, the most defenceless countries are taking the brunt of it.
The International Labour Organisation (ILO) just released a report that sheds light on this dreadful circumstance. It reveals how two connected factors—rising debt levels and a widening employment gap—are crucially contributing to a rift between high-income and low-income nations. In this case, it's like a gaping abyss, widening the already obscene inequality gap around the world.
Let's dissect it. No effort has been spared by the COVID-19 epidemic, which has wrecked economies, destroyed livelihoods, and left nations in a state of uncertainty. But it goes further than that. The devastation of this crisis has set off a domino effect, a series of events that worsen the situation for emerging nations. The rise in debt levels is one of these effects.
Hindering Recovery and Deepening Inequality in Developing Nations
The weight of debt keeps mounting as these countries strive to recover, dragging them down like an anchor. It limits their capacity to properly address the numerous difficulties they encounter. Imagine yourself stuck in quicksand, finding it extremely challenging to find firm footing and regain stability. The execution of urgently required measures to deal with conflicts, natural disasters, and other economic crises that tend to reinforce one another is hampered by financial and budgetary limits, which act as barriers. It feels like you are stuck in an endless cycle of crises that widens the gap between the wealthy and the people.
But this complicated picture has several pieces, in addition to the rising debt levels. Millions of people in emerging nations have high hopes and aspirations, but the employment gap looms enormous and casts a gloomy shadow over them. Opportunities and dreams are being swallowed up by it like a yawning pit. The "jobs gap," a comprehensive indicator of the unmet need for employment, particularly in these vulnerable nations, is a new indicator introduced by the ILO report.
Low-Income Countries Lag Behind in Global Economic Recovery
While the global unemployment rate is expected to fall below pre-pandemic levels in 2023, a discouraging reality looms on the horizon: the road to recovery remains slow, particularly for low-income countries. The International Labour Organization's (ILO) Monitor on the World of Work portrays a sobering picture, highlighting the uphill battle these nations face to regain employment levels prior to the global economic crisis.
Consider a marathon in which some runners surge ahead, leaving others in their wake. This is the situation we are observing. Unfortunately, low-income countries in Africa and the Arab region are falling behind and struggling to catch up with the rest of the globe. It is like attempting to conquer a mountain with a heavy load on your back.
Let us examine the statistics. The projections of the ILO disclose a grim reality for these regions. In 2023, experts anticipate the unemployment rate to reach 11.2% in North Africa, 6.3% in Sub-Saharan Africa, and 9.2% in the Arab States. It is like a persistently gloomy cloud that casts a shadow of uncertainty over employment and livelihood prospects.
What about other locations, though? Have they surmounted the obstacles and regained their pre-crisis employment levels? The answer is an emphatic affirmative. They have made commendable progress, reducing their unemployment rates significantly below the levels seen before the pandemic. It is akin to seeing a phoenix emerge from the ashes, a glimmer of hope amidst the chaos.
Progress in Employment: Regional Success Stories Amidst Global Challenges
Latin America and the Caribbean, for example, have reduced their unemployment rate to 6.7%, a remarkable achievement compared to the 8.0% recorded in 2019. Northern, Southern, and Western Europe have also made progress, reducing their unemployment rates to 6.3% from 7.0% in 2019. Following pace, the unemployment rate in Central and Western Asia has decreased to 7.8 percent from 9.2 percent previously.
The global economic recovery is essentially a tale of two realms. On the one hand, there are regions that have made commendable strides, recovering and regaining stability. On the other hand, low-income countries in Africa and the Arab region continue to struggle with the aftermath of the pandemic as they attempt to restore their economies and create employment opportunities for their citizens.
It is imperative that we acknowledge this stark disparity and address the underlying obstacles that impede the recovery of low-income nations. While some regions may be basking in the grandeur of a successful recovery, we cannot ignore those still struggling to regain their footing. It serves as a reminder of the work that must be done to close the disparity and ensure a more equitable global economic recovery.
Let us aspire for a future in which no nation is left behind and where employment and prosperity opportunities know no borders. Only then can we confidently assert that the global community is on the path to inclusive and sustainable development.
The Jobs Gap: A Comprehensive Measure of Unmet Employment Demand
Beyond traditional unemployment rates, the ILO has developed a new indicator called the "jobs gap" to provide a more comprehensive measure of the unmet demand for employment, particularly in developing countries. The jobs gap captures all individuals who desire employment but do not have a job. The findings reveal a significant global employment divide, with low-income countries facing the largest jobs gap rate at an alarming 21.5 percent. In comparison, middle-income countries have a rate slightly above 11 percent, while high-income countries register the lowest rates at 8.2 percent. Disturbingly, low-income countries have witnessed a long-term rise in the jobs gap rate, from 19.1 percent in 2005 to 21.5 percent in 2023, according to the report.
Rising Debt Levels Constrain Policy Responses
Developing countries face additional challenges in addressing these crises due to rising debt levels. The escalating debt burdens significantly narrow the scope for policy interventions, thereby limiting their ability to respond effectively to complex threats such as conflict, natural disasters, and economic crises. The report highlights that low-income developing countries in debt distress experience a significantly higher jobs gap rate, reaching 25.7 percent in 2023, compared to 11 percent in developing countries at low risk of debt distress. Financial and fiscal constraints resulting from rising debt levels hinder efforts to reduce the employment divide, exacerbating inequalities.
Expanding Social Protection for Social Justice
The research emphasises the necessity of expanding social protection measures in developing countries in order to achieve social fairness and close the gap between high-income and low-income countries. The analysis indicates important shortcomings in social protection policies, especially when it comes to offering fundamental old-age pensions. With only 38.6 percent and 23.2 percent of older citizens getting pensions, respectively, compared to the global average of 77.5 percent, lower-middle-income and low-income countries lag behind. According to the paper, implementing universal basic old-age pensions might have significant positive effects on the economy, society, and the labour market. It predicts that taking this action would improve their GDP per capita by 14.8% within a decade and decrease extreme poverty by 6%.
Financing Social Protection: Challenges and Possibilities
Although financing social protection measures can be challenging, it is not an unattainable goal. As an illustration, a recent report reveals that developing countries would need to allocate around 1.6 percent of their GDP to provide old-age pensions at the level of national poverty lines. A recent study highlights the significance of investing in social protection, emphasising its favourable influence on both economic and social welfare. Developing countries can create a more equitable society by strengthening their social protection systems through securing sufficient funding and financial resources.
Coordinated Financial Support for Recovery and Reconstruction
The analysis provides a compelling case for coordinated global financial support to promote job creation and social protection during times of multiple crises and shocks. It calls for efforts to ensure that recovery and reconstruction leave no one behind and support long-term structural transformation. The report emphasizes the critical importance of creating fiscal space for social investments in low-income countries. As part of the ongoing global discussion on the reform of the international financial architecture, it urges the prioritization of investing in people through jobs and social protection to narrow the gap between rich and poor nations and people.
In line with these goals, the ILO is launching a Global Coalition for Social Justice, bringing together multilateral bodies and stakeholders. This coalition aims to position social justice as the cornerstone of global recovery, making it a priority in national, regional, and global policies and actions. Gilbert F. Houngbo, the Director-General of the ILO, highlights the significance of investing in people to bridge global inequalities and foster social justice.
As the world grapples with the aftermath of the COVID-19 pandemic, it is crucial to address the rising debt levels and employment divide that deepen inequalities in developing countries. By expanding social protection measures, financing them adequately, and providing coordinated financial support, we can work towards a more equitable future, where opportunities are accessible to all. The pursuit of social justice must remain at the forefront of global efforts to build back better and ensure a more inclusive and prosperous world for everyone.