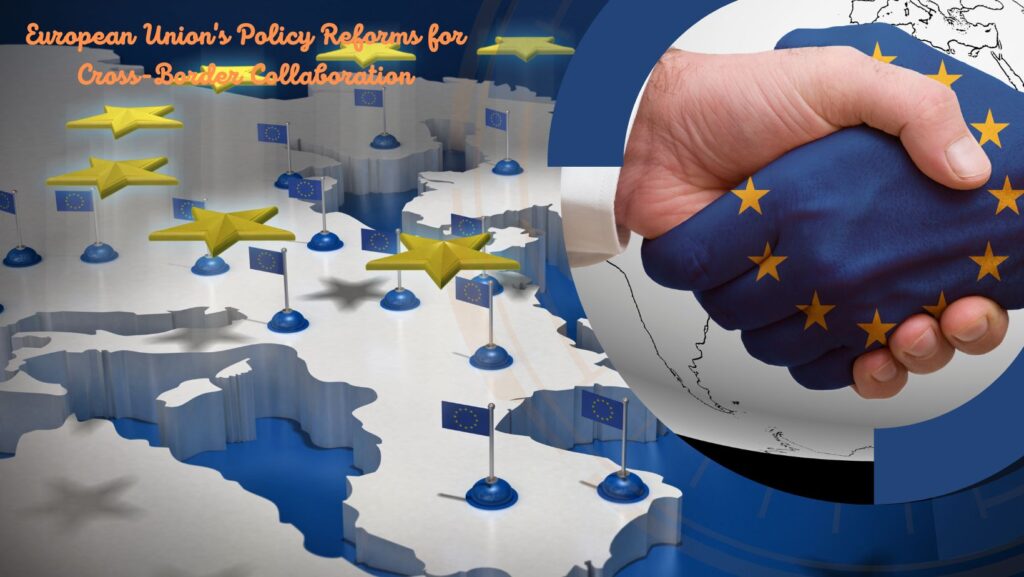 Summary:
The article discusses EU policy initiatives to encourage cross-border collaboration among its 27 member states. Cross-border collaboration strengthens economic linkages, fosters innovation, and promotes cultural interchange.
The EU wants a seamless, integrated European market where enterprises, individuals, and communities may thrive via cross-border engagement.
Reforms streamline regulatory frameworks, improve infrastructural connectivity, facilitate trade and investment, and encourage research and innovation.
These measures reduced barriers and boosted EU trade and enterprise. Case studies of successful cross-border collaboration are discussed in the article.
It finishes by reiterating the EU's commitment to cross-border collaboration and its benefits for businesses and citizens.
Introduction: The Significance of Cross-Border Collaboration
Cooperation across borders is crucial for stimulating innovation, strengthening economic ties, and fostering cross-cultural exchange between close-by countries. To fully realise the promise of the single market and sustain continuous growth, the European Union (EU), whose member states have relatively open borders, must make cross-border collaboration easier. This article examines how the EU's considerable efforts to put into place policy reform measures that promote international cooperation have affected different businesses and stakeholders.
The EU's Vision for Cross-Border Collaboration
The goal of the European Union is to establish a seamless, integrated European market where individuals, organisations, and communities may collaborate and thrive regardless of national boundaries. To achieve this goal, the EU has actively engaged in policy initiatives designed to reduce barriers and encourage cross-border collaboration in a range of industries.
Policy Reforms Promoting Cross-Border Collaboration
Streamlining Regulatory Frameworks
The existence of various regulatory frameworks in various member states is one of the main obstacles to cross-border collaboration. In response to this issue, the EU has actively worked to harmonise laws and standards in areas including product safety, intellectual property rights, and data protection. Businesses are now better able to negotiate the regulatory environment thanks to the streamlining of these frameworks, facilitating cross-border collaboration.
Enhancing Infrastructure Connectivity
Effective infrastructure connectivity is a necessary prerequisite for promoting international cooperation. To improve connections between member states, the EU has made significant expenditures in the construction of transportation networks, including roads, railroads, and digital infrastructure. These investments support international knowledge, ideas, and talent exchange in addition to trade and logistics.
Facilitating Trade and Investment
The EU has put in place a number of measures to encourage international trade and investment. Policies like the elimination of customs fees, the introduction of the single currency (the euro), and the development of the Single Market have greatly accelerated cross-border transactions and encouraged businesses to expand their operations internationally.
Promoting Research and Innovation
To foster cross-border collaboration in research and innovation, the EU has launched several initiatives and funding programmes. Moreover, at the forefront stands Horizon Europe, the EU's flagship research and innovation programme, which provides financial support for collaborative research projects across member states. By encouraging knowledge exchange and cooperation, these initiatives drive scientific advancements and technological breakthroughs.
Impact of Policy Reforms on Business and Trade
The EU's policy changes to encourage international cooperation have had a significant impact on commerce and business within the union. Harmonising regulations has made it easier for firms to operate in a more uniform regulatory environment, which has led to lower compliance costs and administrative constraints. As a result, companies have been encouraged to grow internationally, resulting in increased trade and economic expansion.
Improved infrastructure connectivity has significantly increased the effectiveness of logistics and transportation, making it easier for enterprises to reach new markets and clients. Additionally, it has aided in the supply chains' seamless integration, enabling the efficient transfer of goods and services between member nations. These changes have made it possible for companies to benefit from economies of scale, lower transportation expenses, and increase their consumer base.
Trade and investment facilitation have given firms new opportunities. By levelling the playing field for firms across the EU and establishing the Single Market, the removal of customs charges has encouraged fair competition and sparked innovation. Further boosting cross-border trade and investment, the Euro's use as a common currency has streamlined financial transactions and decreased exchange rate concerns.
The EU's emphasis on fostering innovation and research has also had a favourable impact on trade and business. Researchers and innovators from various member states have encouraged knowledge sharing and idea cross-pollination through collaborative research projects financed by initiatives like Horizon Europe. This has sparked ground-breaking discoveries, increased competition, and the creation of fresh goods and services that can be sold internationally.
Benefits and Challenges of Cross-Border Collaboration
Cross-border cooperation inside the EU has numerous advantages for organisations, people, and communities. Businesses can reach bigger markets, expand their clientele, and benefit from economies of scale. Additionally, it fosters a sense of cohesion and unity among varied communities by boosting knowledge sharing, cultural understanding, and cooperation. Cross-border cooperation stimulates innovation, promotes healthy competition, and propels regional economic expansion.
However, it's critical to recognise the difficulties that cross-border collaboration presents. Communication and collaboration may be hampered by linguistic and cultural hurdles. Businesses that operate in several jurisdictions face challenges due to variations in laws and regulations. Additionally, different tax and labour rules among the member states can result in more administrative work for enterprises.
The EU's policy reforms have helped to mitigate these issues, making cross-border cooperation more feasible and advantageous. The EU works to create an environment where firms and individuals can succeed in their cooperative endeavours by actively removing impediments.
Case Studies: Successful Cross-Border Collaborative Projects
The European Green Belt Initiative
A successful example of cross-border cooperation inside the EU is the European Green Belt Initiative. The programme's objective is to save and rehabilitate the ecosystem around the former Iron Curtain, which previously separated Europe during the Cold War. The programme has created a network of protected places through cooperation among its many members, fostering biodiversity preservation, sustainable tourism, and cross-cultural exchange.
Interreg Programmes: Supporting Regional Cooperation
The Interreg programmes of the EU are crucial vehicles for fostering cross-border and regional collaboration. Additionally, these initiatives offer funding for collaborative efforts in fields like science and innovation, environmental preservation, and social inclusion. These programmes encourage economic development and improve the standard of living in border regions by facilitating the implementation of various successful cross-border initiatives.
Future Outlook and Opportunities
The European Union is unwavering in its commitment to advancing cross-border cooperation and maximising its numerous advantages. The goal of ongoing policy reforms is to remove remaining obstacles and promote further member state integration. It is anticipated that new chances for cooperation and creativity will arise as technology develops and digitization quickens.
There are plenty of opportunities for cross-border cooperation inside the EU in important sectors like sustainable mobility, digital services, healthcare, and renewable energy. The EU can continue to spur economic growth, support social cohesion, and advance environmental sustainability by utilising the various skills and experiences of its member states.
Conclusion
The EU's cross-border collaborative policy measures demonstrate its unwavering commitment to economic integration, innovation, and cultural exchange. Moreover, the EU has enabled cross-border collaboration by streamlining regulatory frameworks, improving infrastructure connectivity, facilitating trade and investment, and promoting research and innovation.
These policy reforms have reduced obstacles, fostered fair competition, and opened new business and trade opportunities. They also encourage cooperation, knowledge sharing, and environmental conservation.
The EU's commitment to removing barriers and encouraging collaboration will continue to boost regional economic growth and create opportunities for firms and individuals.
FAQs
How does cross-border collaboration benefit businesses?
Cross-border collaboration offers businesses numerous benefits, including access to larger markets, diversification of customer bases, and the ability to leverage economies of scale. It promotes knowledge exchange, cultural understanding, and cooperation among diverse communities, fostering innovation and driving economic growth.
How do policy reforms promote cross-border collaboration?
Policy reforms play a crucial role in promoting cross-border collaboration by addressing barriers and creating a favourable environment for businesses and individuals to collaborate across borders. Reforms such as harmonising regulations, enhancing infrastructure connectivity, and facilitating trade and investment streamline processes, reduce complexities, and promote consistency, making cross-border collaboration more accessible and beneficial.
What challenges are associated with cross-border collaboration?
Cross-border collaboration comes with challenges such as language and cultural barriers, differences in regulations and legal systems, and varying tax regimes and labour laws. However, the EU's policy reforms aim to mitigate these challenges by facilitating effective collaboration and minimising administrative burdens for businesses operating across borders.
Can small and medium-sized enterprises (SMEs) benefit from cross-border collaboration?
Absolutely. Cross-border collaboration presents significant benefits for SMEs, allowing them to expand their market reach, access new customers, and tap into different business environments. Collaboration with partners from other member states fosters knowledge sharing, innovation, and increased competitiveness for SMEs.
How can individuals benefit from cross-border collaboration?
Individuals benefit from cross-border collaboration through opportunities for cultural exchange, personal development, and learning from different perspectives. It promotes cooperation among diverse communities, facilitates mobility, and instills a sense of European identity. Additionally, cross-border collaboration can lead to job opportunities and improved career prospects for individuals.