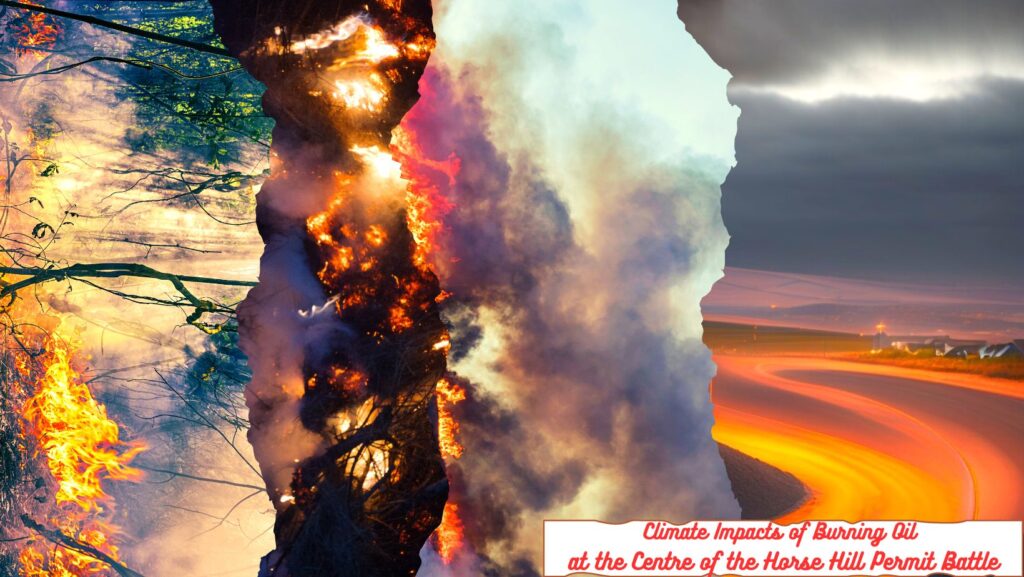 Summary:
Due to climate concerns, the Horse Hill oil drilling project in Surrey, England, is being sued. Sarah Finch, a local homeowner, has sued over the project's climatic implications.
Burning oil releases greenhouse gases, which is the main problem. UK Oil & Gas (UKOG) believes the oil will be "low-carbon" and defends the project as safe and proven.
In July, the Supreme Court will consider the issue, which could make new fossil fuel projects in the UK difficult to approve.
This case will affect fossil fuel development and climate change efforts.
You might not imagine that drilling for oil in the picturesque English countryside could have an effect on the climate, but that is precisely what the proposed Horse Hill oil project would do. To stop UK Oil & Gas from accessing oil reserves that, if burned, would emit more than 53 million metric tonnes of carbon dioxide into the environment, the firm is being sued. Over ten coal-fired power plants could produce a year's worth of greenhouse gases. Despite the project's claims of immediate economic benefits, the long-term effects on the environment are simply too severe to be overlooked. Moving away from fossil fuels is more important for the future of the planet than increasing oil drilling in our own backyards. Our shared climate is at stake in the conflict over Horse Hill, which affects us all.
The Proposed Horse Hill Oil Project and Its Climate Impact
Over a 20-year period, the proposed drilling at Horse Hill is expected to yield up to 3,000 barrels of oil per day. From a global perspective, this might seem like a modest amount, but the effects of burning this extra oil would be profound.
Experts estimate that over the course of two decades, the extraction and combustion of this oil would produce more than 7.6 million metric tonnes of carbon dioxide. This amount exceeds the Borough of Surrey Heath's combined total emissions from all sources in 2016 and 2017. In order to keep global warming to 1.5°C, the Intergovernmental Panel on Climate Change (IPCC) has issued a warning that worldwide CO2 emissions must be decreased by 45% from 2010 levels by 2030. This objective is immediately opposed by initiatives like Horse Hill.
Other greenhouse gases, like methane, that may be released during drilling and extraction are a source of worry. According to estimates, methane has a 20-year global warming potential that is 86 times greater than that of CO2. Any climatic benefits from switching from coal to natural gas could be cancelled out by even relatively tiny methane leaks and venting occurrences.
In addition to emissions, the Horse Hill project threatens the future of renewable energy in the region. The development of oil resources can discourage investment in clean energy infrastructure and a transition to sustainable energy systems. For Surrey and the UK to meet their climate targets, oil must be left in the ground and funding must be directed to renewable technologies.
The climate consequences of burning additional oil from Horse Hill would be incompatible with the goals of the Paris Agreement and UK climate policy. Approving this project will only make the necessary emissions reductions harder and more costly to achieve in the coming decades. The costs for our environment and society are simply too great. For a sustainable future, Horse Hill must not proceed.
Why Environmental Groups Oppose the Drilling Permits?
The proposed drilling at Horse Hill has faced legal challenges from environmental groups concerned about the climate impacts of extracting and burning more oil. Their opposition is based on several factors:
Burning the oil extracted from Horse Hill would release carbon dioxide and other greenhouse gases that contribute to global warming. According to UKOG's own environmental impact assessment, the project would generate over 127,000 metric tonnes of carbon dioxide equivalent each year at peak production. Environmental groups argue that this level of emissions is incompatible with the UK's climate change targets.
The oil from Horse Hill would not replace oil from other sources but instead add to the total global oil supply and consumption. This would make it more difficult for the UK and other countries to transition away from fossil fuels to renewable energy sources, as is urgently needed to mitigate climate change.
The Horse Hill site is located in the Green Belt, an area established to prevent urban sprawl and protect the environment. Drilling for oil in this area would damage the local landscape and set a precedent for further exploitation of the Green Belt for fossil fuel extraction.
The local community would face health and safety risks from air, water, and noise pollution associated with oil drilling and production at Horse Hill. Environmental groups claim these impacts have not been properly addressed in UKOG's proposals.
Environmental groups strongly oppose UKOG's plans to drill for oil at Horse Hill due to the threat of increased carbon emissions, impediments to the transition to renewable energy, damage to the local environment, and risks to public health, all of which would undermine efforts to tackle climate change. They argue that the long-term costs of this project far outweigh any short-term economic benefits.
The Legal Challenge: How UK Residents Are Fighting the Project
The Legal Basis of the Challenge
In the UK, oil and gas drilling projects require environmental permits to operate. Finch argues that the Environment Agency and Surrey County Council improperly issued UKOG's permits for Horse Hill. Specifically, Finch claims that the agencies failed to adequately consider the climate change impacts of burning the oil and gas extracted from the site, as required under UK law.
Finch cites Section 19 of the Planning and Compulsory Purchase Act 2004, which mandates that local planning authorities must include policies in their local plans that ensure the development and use of land in their area contributes to the mitigation of and adaptation to climate change. Additionally, Finch argues that the Environment Agency and Surrey County Council violated their legal duty under Section 40 of the Natural Environment and Rural Communities Act 2006 to have due regard for the purpose of mitigating and adapting to climate change.
The Project's Substantial Carbon Footprint
If approved, the Horse Hill project would produce millions of barrels of oil over the next 20–30 years. When burned, this oil would release over 6 million metric tonnes of carbon dioxide, a potent greenhouse gas that contributes to dangerous climate change. Given the scale of emissions, Finch contends that the project is clearly inconsistent with the UK's legally binding commitment under the Paris Agreement to achieve net zero emissions by 2050.
Finch maintains that, by failing to fully consider these climate impacts, the permitting agencies abdicated their responsibility to regulate development in a sustainable manner. She argues their decision should be overturned as it poses severe risks to the environment, public health, and future generations. A victory for Finch could set an important precedent, signalling to regulators and companies that climate change must be made a priority when evaluating the costs and benefits of fossil fuel projects.
Why Horse Hill Matters in the Fight Against Climate Change?
The consequences of drilling for oil at Horse Hill could be devastating for efforts to mitigate climate change. Burning the oil extracted from Horse Hill would release greenhouse gases that warm the planet and alter our climate.
Carbon Emissions
Extracting and burning the estimated 9 million barrels of oil at Horse Hill would emit over 3 million metric tonnes of carbon dioxide, a key greenhouse gas.
These emissions would contribute to rising global temperatures, sea level rise, more extreme weather events, worsening wildfires, and other severe effects of climate change.
The Urgent Need for Transition
To avoid catastrophic climate change, the world must rapidly transition away from fossil fuels to renewable energy.
New oil fields like Horse Hill move us in the opposite direction, locking us into continued reliance on oil and hindering the transition to cleaner energy.
The Outsized Impacts of Small Sources
Although Horse Hill is a relatively small oil field, many such fields together produce a large percentage of total emissions.
Reducing emissions requires tackling all sources, big and small. Horse Hill and other local fights matter in the broader effort against climate change.
A Question of Priorities
Approving Horse Hill signals that oil extraction and profits are prioritised over a stable climate and a livable world for future generations.
It reflects a short-term mindset rather than the long-term thinking needed to solve an urgent problem like climate change.
While the Horse Hill oil field is modest in size, the climate costs of extracting and burning its oil are significant. Halting new fossil fuel projects like this and shifting to renewable energy is critical for avoiding catastrophic climate change. The battle over Horse Hill symbolises the choice between short-term gains and long-term sustainability.
FAQ: Answering Questions About Horse Hill and Oil Drilling in the UK
What type of oil is at Horse Hill?
The oil contained within the Horse Hill site is known as Kimmeridge Clay Oil, named after the geological formation it is found in. This oil is considered unconventional as it is located within tight limestones and shales. Extraction requires hydraulic fracturing, also known as fracking, to release the oil from the rock. The Kimmeridge Clay formation is believed to contain a significant amount of oil across southern England, though estimates of recoverable volumes vary.
How much oil could be extracted from Horse Hill?
UKOG estimates that Horse Hill contains between 2.4 and 8.5 million barrels of oil. However, the project's detractors contest these figures. The true amount of extractable oil remains unknown unless further appraisal drilling and production testing are conducted. UKOG was granted permission to conduct flow tests at Horse Hill in 2019 to better determine the site's production potential.
What are the climate impacts of burning oil from Horse Hill?
If fully developed, Horse Hill could produce millions of barrels of oil over two decades, generating over 100,000 metric tonnes of carbon dioxide emissions per year. When burned, this oil would release more greenhouse gases into the atmosphere, contributing to global climate change. Opponents argue that new oil projects are incompatible with UK climate targets, while supporters counter that domestic oil production could enhance energy security. This dispute reflects an ongoing debate around the continued development of new fossil fuel resources as the world transitions to renewable energy.
How does oil production at Horse Hill affect local communities?
Residents living near Horse Hill have raised concerns over the potential impacts of oil drilling on air and water quality, noise and light pollution, and traffic levels. However, UKOG claims that on-site monitoring has not detected any breaches in environmental standards or permit conditions. If the project proceeds to the production stage, more intensive development would be required to handle the storage, processing, and distribution of oil from the site. This could further intensify the project's effects on surrounding communities.
Conclusion
In the end, you must weigh the potential economic benefits of drilling at Horse Hill against the irreversible damage to our climate. While proponents argue this project can provide energy security and jobs, the truth is that we must transition away from fossil fuels to renewable energy to avoid catastrophic warming. Each new oil and gas project approved locks us into a high-carbon future and makes that transition harder. Our planet cannot afford more empty promises of "clean" fossil fuels and "net zero" emissions that are little more than greenwashing. The science is clear: we must leave oil and gas in the ground. The battle over Horse Hill is a fight for our future, and we all must consider whether this is the legacy we want to leave for generations to come. The choice is ours.